Comprehensive Capabilities,
Carefully Applied
While best known for our ability solve seemingly impossible challenges in the most affordable and efficient manner possible, it is important to remember Artcore is a true full-service Fine Art Service provider. Clients both new and old should always rest assured, secure in the knowledge that our considerable resources are at least on par with those of our competitors and, in some aspects, far exceed them. We just find that, by applying a smarter approach and uniquely creative perspective, we simply don't need to use every tool in our kit to get the job done. Perfectly.
Broad Experience,
Singular Focus
Artcore technicians employ a mixture skills associated with many, seemingly disparate, disciplines. For example, any one project may require the deft touch of an experienced cargo handler, the trained aestheticism and presentation skills of a designer, and the analytical mind and spacial awareness of a master rigger. Fortunately, our experienced technicians boast a remarkable breadth of knowledge, and our combined team approach yields a complementary skillset and capabilities that is far greater then the sum of its parts.
Services Include:
Residential installations of a single artwork or an entire collection
Expert handling on oversize objects and priceless artifacts
Corporate art installations and relocation
Custom installation solutions for difficult situations
Expert rigging services indoors, outdoors and public locations
Sculpture installations, custom fabrication of pedestals, supports and related mounting hardware
Heavy Ability.
Light Touch.
Fine art rigging is as much Science as Art and requires a mastery of both materials and equipment. From basic and advanced, Artcore specializes in the complete spectrum of fine art rigging, assembly, installation, re-location, and de-installation of large-scale and complex objects. We maintain and operate a fleet of specialized equipment and proprietary vehicles specifically designed to meet the unique demands of art rigging. Our expertise and experience, coupled with our unique facility for creating effective solutions, ensures that Artcore can and will meet the needs of even the most demanding projects. Every time.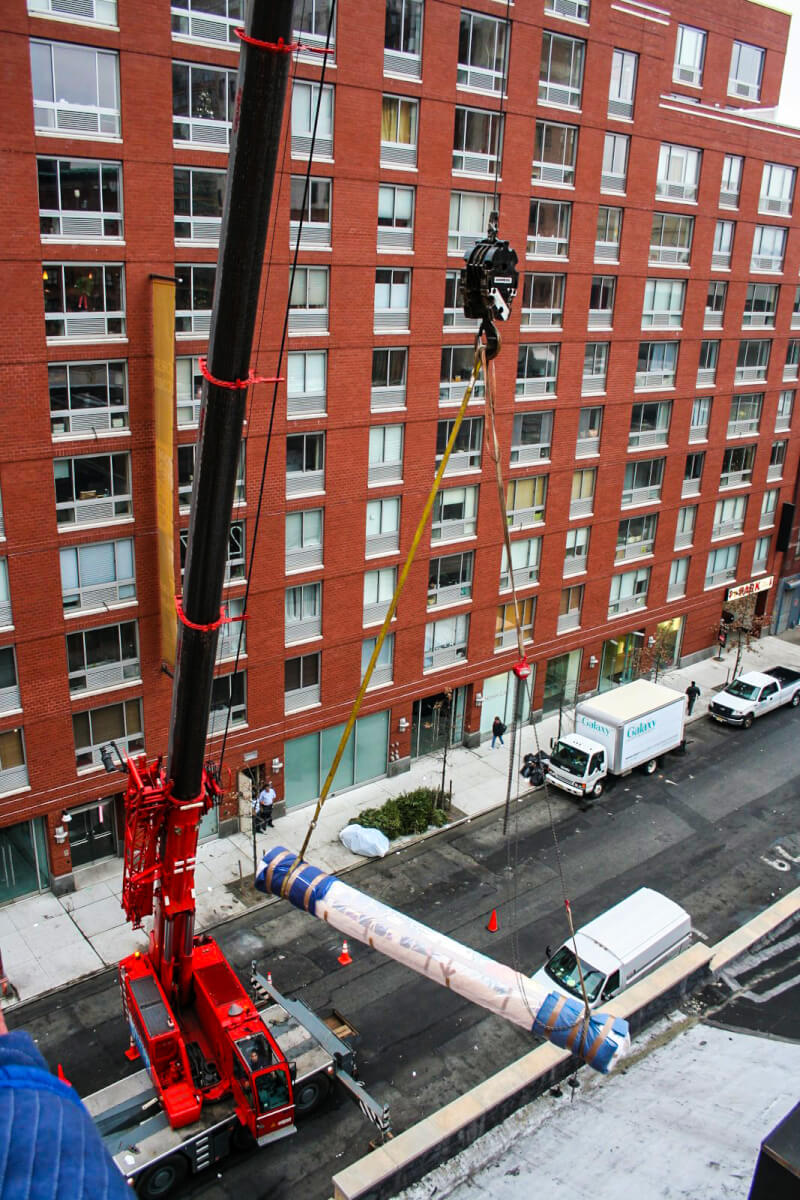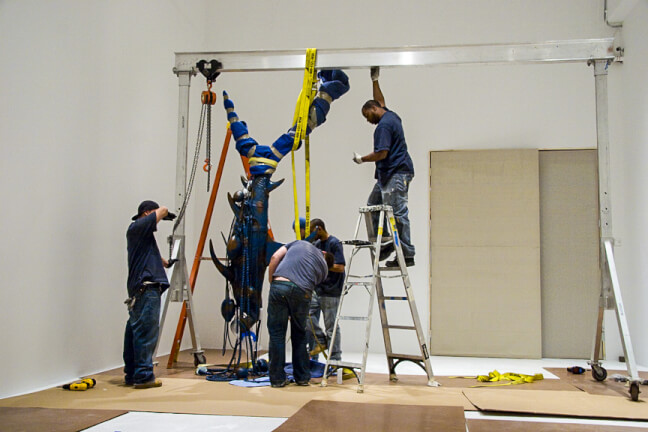 State of the Art.
For the Sake of the Art.
Our climate-controlled storage facility is fully equipped, conveniently located and easily accessible from anywhere in the NY Metro area.
Amenities Include:
High security
UL2 Alarm System
24 hr monitoring
Computerized inventory control
24/7 web based inventory access
On site gallery quality viewing rooms
Private rooms
Open storage
Short term storage
Long term storage
Vault
Crating & Packing
Climate controlled trucking
Additional Storage Solutions:
We also offer additional off-site storage for Monuments and other Over Dimensional items
Additional Storage Amenities:
9 acres of flat outdoor storage
30,000 feet of indoor storage
24-hr monitoring
Computerized inventory control
24/7 web based inventory access
Long-term storage
Over-dimensional trucking
Truck scale
Container storage services
Viewing Rooms:
We also offer additional off-site storage for Monuments and other Over Dimensional items
Rooms are equipped with:
Climate Control
Lightolier ProSpec lighting system with dimmer controlled spot and flood lights
⅝" dry wall backed with ¾" HDO and steel studs
Concrete floors
1500 square feet of gallery-quality exhibition space
24′ ceilings
Uniquely Capable,
Always Reliable.
Artcore provides complete logistical services for the safe transport of Fine Art and High Value Goods to any destination in the world. In addition, we offer our own unparalleled fleet of proprietary vehicles specifically designed and built for the care and transport of Fine Art and High Value goods.
Artcore does not subcontract work to other vendors and can provide point-to-point service, anywhere in the lower 48 states.
We Offer:
Permitting and Pilot cars
Flat bed and rollback trucks
Specialized climate trailers
Double-drop and Deep-drop trailers
Heavy equipment rental
Local Services
Our specialized fleet of vehicles can serve your small runs to the framer or the massive retrieval from the foundry. All our trucks are custom built to the specific needs of our specialized industry. Each truck is outfitted for maximum capacity while maintaining absolute safe control and full compliance with all transportation regulations.
Shuttle Services
Artcore operates a domestic shuttle system with transport to all major cities in the United States on a regular basis. Each shuttle truck is fully equipped to meet your door-to-door needs whether for a single artwork or an entire collection.
Areas Served:
Regional services throughout the Mid-Atlantic States
East Coast service from Miami to Maine and stops in-between
West Coast service with stops in major cities
Standard equipment includes:
Dual Art Handler/Drivers with room for couriers or additional support
Air Ride Suspensions
Independent, Climate-Controlled Cargo Boxes
E-track and custom cargo controls
Oversize Lift Gates
Vehicle security systems
Satellite tracking and dispatch
Same day dispatch
All vehicles are owned by Artcore and professionally cared for based on strict maintenance schedules
Daily service to major NY & NJ airports
Flat bed and rollback trucks
Specialized trailers
Exclusive Use Trucking
When a shuttle is not right for you due to time constraints or volume, as always Artcore has a flexible custom solution for you. Our exclusive-use service vehicles are designed for rapid response to any location in the United States within 5 days or less. Our exclusive fleet can quickly respond coast-to-coast and return to NY in less than 8 days total time. Our trucks are custom-equipped for each job, always maintain dual driver/technicians, an offer an unheard of 92" x 205" custom level-lift lift gate for dock level or ground deliveries. Each truck has a clear minimum height of 105″ at the door and a full 144″ clear interior height ceiling to accommodate your largest objects. In addition each truck is equipped with climate-controlled environment for optimal humidity and temperature, are air ride equipped and satellite tracked for accurate dispatch and complete peace of mind.
Over-Dimensional and Heavyweight Services
We pride ourselves on operating one of the most unique and flexible feet of vehicles in the HVG and Fine Art Services sector. When called upon to move objects that require permitting and open trucks, we always have the right equipment for the job. Artcore has the unique capability to move objects up to 156" tall and 70 tons without exceeding the national height restriction of 13' 6". Upon request and as needed, we can also provide additional specialized equipment to ensure the seamless completion of your job.